Overview of seaborn plotting functions#
Most of your interactions with seaborn will happen through a set of plotting functions. Later chapters in the tutorial will explore the specific features offered by each function. This chapter will introduce, at a high-level, the different kinds of functions that you will encounter.
Similar functions for similar tasks#
The seaborn namespace is flat; all of the functionality is accessible at the top level. But the code itself is hierarchically structured, with modules of functions that achieve similar visualization goals through different means. Most of the docs are structured around these modules: you'll encounter names like "relational", "distributional", and "categorical".
For example, the distributions module defines functions that specialize in representing the distribution of datapoints. This includes familiar methods like the histogram:
penguins

 

=

 

sns

.

load_dataset

(

"penguins"

)




sns

.

histplot

(

data

=

penguins

,

 

x

=

"flipper_length_mm"

,

 

hue

=

"species"

,

 

multiple

=

"stack"

)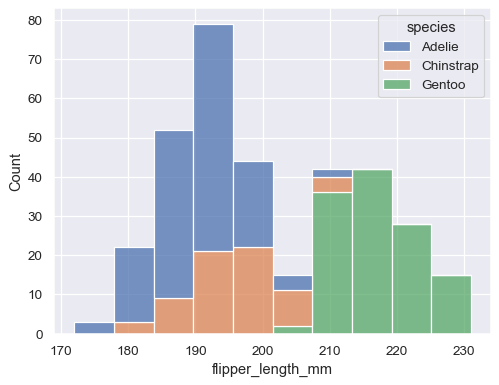 Along with similar, but perhaps less familiar, options such as kernel density estimation:
sns

.

kdeplot

(

data

=

penguins

,

 

x

=

"flipper_length_mm"

,

 

hue

=

"species"

,

 

multiple

=

"stack"

)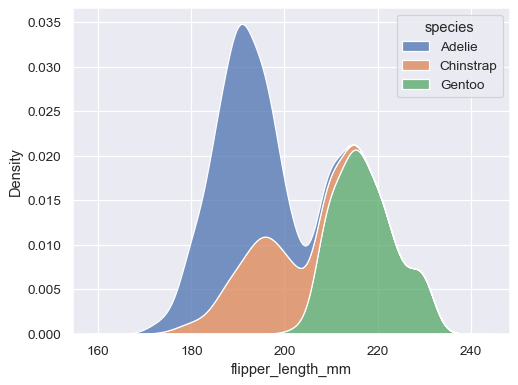 Functions within a module share a lot of underlying code and offer similar features that may not be present in other components of the library (such as multiple="stack" in the examples above). They are designed to facilitate switching between different visual representations as you explore a dataset, because different representations often have complementary strengths and weaknesses.
Figure-level vs. axes-level functions#
In addition to the different modules, there is a cross-cutting classification of seaborn functions as "axes-level" or "figure-level". The examples above are axes-level functions. They plot data onto a single matplotlib.pyplot.Axes object, which is the return value of the function.
In contrast, figure-level functions interface with matplotlib through a seaborn object, usually a FacetGrid, that manages the figure. Each module has a single figure-level function, which offers a unitary interface to its various axes-level functions. The organization looks a bit like this: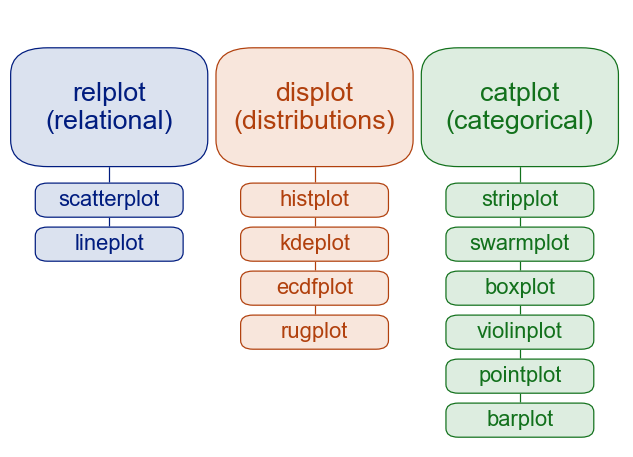 For example, displot() is the figure-level function for the distributions module. Its default behavior is to draw a histogram, using the same code as histplot() behind the scenes:
sns

.

displot

(

data

=

penguins

,

 

x

=

"flipper_length_mm"

,

 

hue

=

"species"

,

 

multiple

=

"stack"

)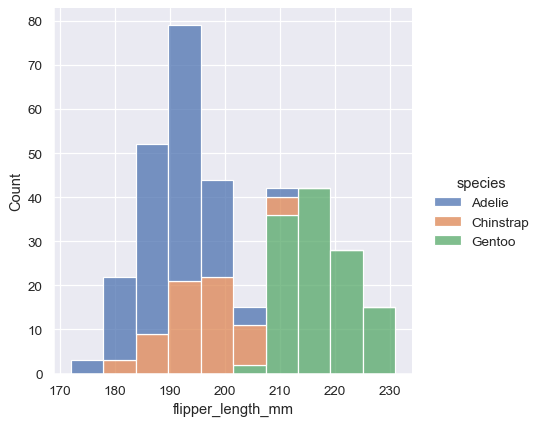 To draw a kernel density plot instead, using the same code as kdeplot(), select it using the kind parameter:
sns

.

displot

(

data

=

penguins

,

 

x

=

"flipper_length_mm"

,

 

hue

=

"species"

,

 

multiple

=

"stack"

,

 

kind

=

"kde"

)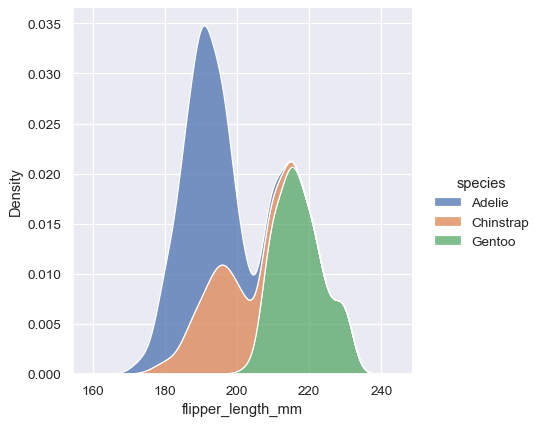 You'll notice that the figure-level plots look mostly like their axes-level counterparts, but there are a few differences. Notably, the legend is placed outside the plot. They also have a slightly different shape (more on that shortly).
The most useful feature offered by the figure-level functions is that they can easily create figures with multiple subplots. For example, instead of stacking the three distributions for each species of penguins in the same axes, we can "facet" them by plotting each distribution across the columns of the figure:
sns

.

displot

(

data

=

penguins

,

 

x

=

"flipper_length_mm"

,

 

hue

=

"species"

,

 

col

=

"species"

)




The figure-level functions wrap their axes-level counterparts and pass the kind-specific keyword arguments (such as the bin size for a histogram) down to the underlying function. That means they are no less flexible, but there is a downside: the kind-specific parameters don't appear in the function signature or docstrings. Some of their features might be less discoverable, and you may need to look at two different pages of the documentation before understanding how to achieve a specific goal.
Combining multiple views on the data#
Two important plotting functions in seaborn don't fit cleanly into the classification scheme discussed above. These functions, jointplot() and pairplot(), employ multiple kinds of plots from different modules to represent multiple aspects of a dataset in a single figure. Both plots are figure-level functions and create figures with multiple subplots by default. But they use different objects to manage the figure: JointGrid and PairGrid, respectively.
jointplot() plots the relationship or joint distribution of two variables while adding marginal axes that show the univariate distribution of each one separately:
sns

.

jointplot

(

data

=

penguins

,

 

x

=

"flipper_length_mm"

,

 

y

=

"bill_length_mm"

,

 

hue

=

"species"

)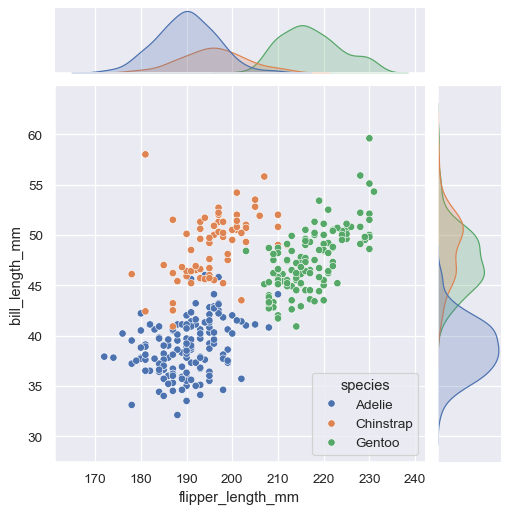 pairplot() is similar — it combines joint and marginal views — but rather than focusing on a single relationship, it visualizes every pairwise combination of variables simultaneously:
sns

.

pairplot

(

data

=

penguins

,

 

hue

=

"species"

)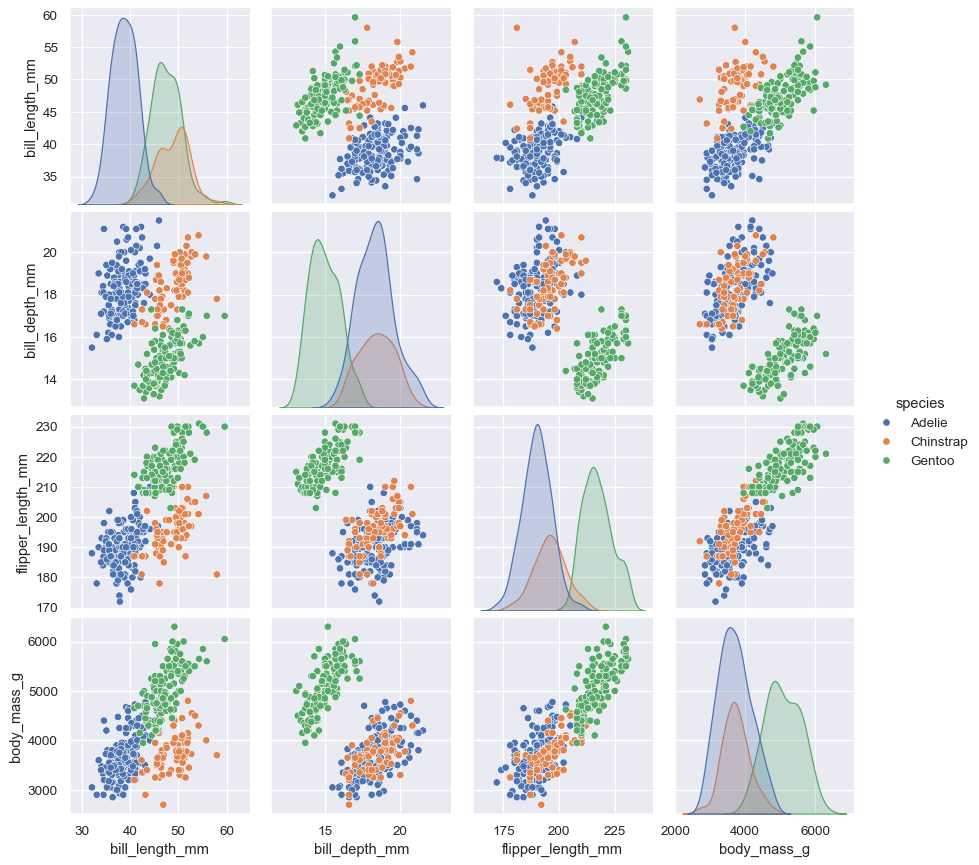 Behind the scenes, these functions are using axes-level functions that you have already met (scatterplot() and kdeplot()), and they also have a kind parameter that lets you quickly swap in a different representation:
sns

.

jointplot

(

data

=

penguins

,

 

x

=

"flipper_length_mm"

,

 

y

=

"bill_length_mm"

,

 

hue

=

"species"

,

 

kind

=

"hist"

)