Data structures accepted by seaborn¶
As a data visualization library, seaborn requires that you provide it with data. This chapter explains the various ways to accomplish that task. Seaborn supports several different dataset formats, and most functions accept data represented with objects from the pandas or numpy libraries as well as built-in Python types like lists and dictionaries. Understanding the usage patterns associated with these different options will help you quickly create useful visualizations for nearly any dataset.
Note
As of current writing (v0.11.0), the full breadth of options covered here are supported by only a subset of the modules in seaborn (namely, the relational and distribution modules). The other modules offer much of the same flexibility, but have some exceptions (e.g., catplot() and lmplot() are limited to long-form data with named variables). The data-ingest code will be standardized over the next few release cycles, but until that point, be mindful of the specific documentation for each function if it is not doing what you expect with your dataset.
Long-form vs. wide-form data¶
Most plotting functions in seaborn are oriented towards vectors of data. When plotting x against y, each variable should be a vector. Seaborn accepts data sets that have more than one vector organized in some tabular fashion. There is a fundamental distinction between "long-form" and "wide-form" data tables, and seaborn will treat each differently.
Options for visualizing long-form data¶
While long-form data has a precise definition, seaborn is fairly flexible in terms of how it is actually organized across the data structures in memory. The examples in the rest of the documentation will typically use pandas.DataFrame objects and reference variables in them by assigning names of their columns to the variables in the plot. But it is also possible to store vectors in a Python dictionary or a class that implements that interface:
flights_dict

 

=

 

flights

.

to_dict

()




sns

.

relplot

(

data

=

flights_dict

,

 

x

=

"year"

,

 

y

=

"passengers"

,

 

hue

=

"month"

,

 

kind

=

"line"

)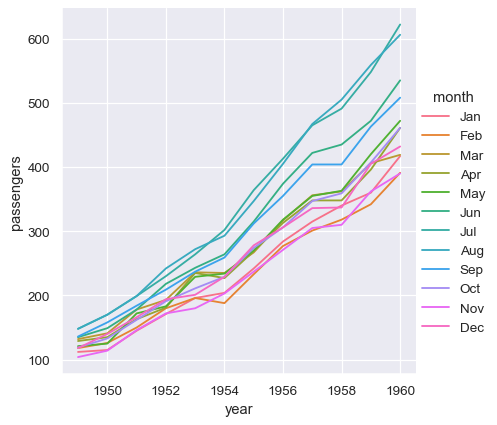 Many pandas operations, such as a the split-apply-combine operations of a group-by, will produce a dataframe where information has moved from the columns of the input dataframe to the index of the output. So long as the name is retained, you can still reference the data as normal:
flights_avg

 

=

 

flights

.

groupby

(

"year"

)

.

mean

()




sns

.

relplot

(

data

=

flights_avg

,

 

x

=

"year"

,

 

y

=

"passengers"

,

 

kind

=

"line"

)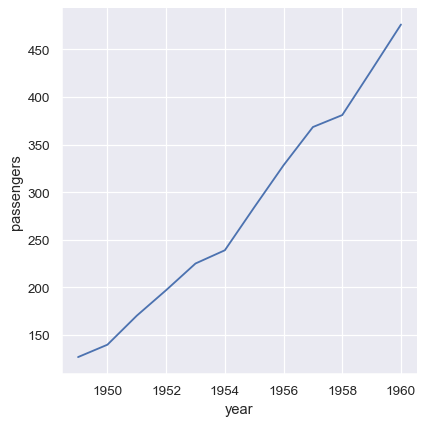 Additionally, it's possible to pass vectors of data directly as arguments to x, y, and other plotting variables. If these vectors are pandas objects, the name attribute will be used to label the plot:
year

 

=

 

flights_avg

.

index




passengers

 

=

 

flights_avg

[

"passengers"

]




sns

.

relplot

(

x

=

year

,

 

y

=

passengers

,

 

kind

=

"line"

)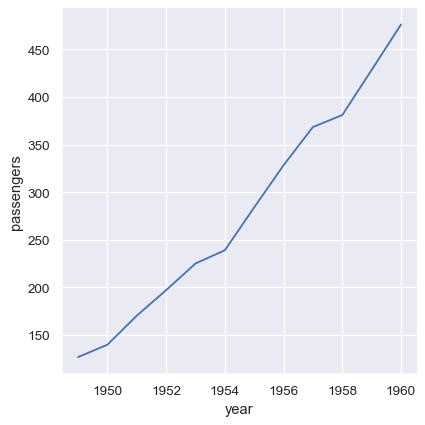 Numpy arrays and other objects that implement the Python sequence interface work too, but if they don't have names, the plot will not be as informative without further tweaking:
sns

.

relplot

(

x

=

year

.

to_numpy

(),

 

y

=

passengers

.

to_list

(),

 

kind

=

"line"

)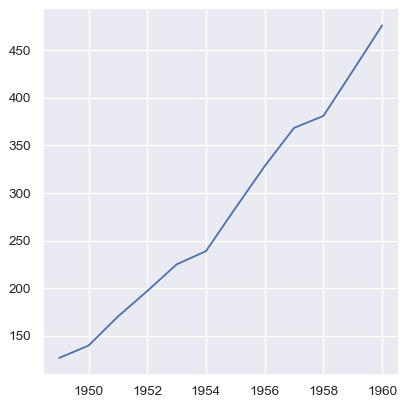 Options for visualizing wide-form data¶
The options for passing wide-form data are even more flexible. As with long-form data, pandas objects are preferable because the name (and, in some cases, index) information can be used. But in essence, any format that can be viewed as a single vector or a collection of vectors can be passed to data, and a valid plot can usually be constructed.
The example we saw above used a rectangular pandas.DataFrame, which can be thought of as a collection of its columns. A dict or list of pandas objects will also work, but we'll lose the axis labels:
flights_wide_list

 

=

 

[

col

 

for

 

_

,

 

col

 

in

 

flights_wide

.

items

()]




sns

.

relplot

(

data

=

flights_wide_list

,

 

kind

=

"line"

)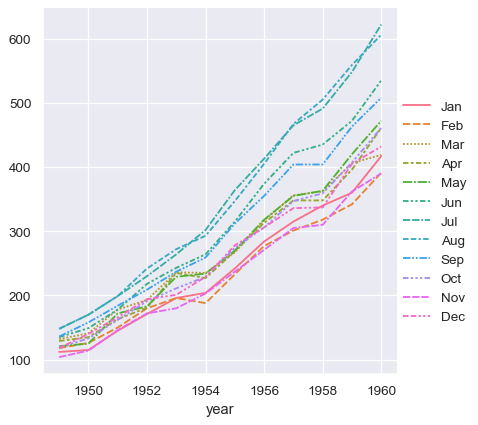 The vectors in a collection do not need to have the same length. If they have an index, it will be used to align them:
two_series

 

=

 

[

flights_wide

.

loc

[:

1955

,

 

"Jan"

],

 

flights_wide

.

loc

[

1952

:,

 

"Aug"

]]




sns

.

relplot

(

data

=

two_series

,

 

kind

=

"line"

)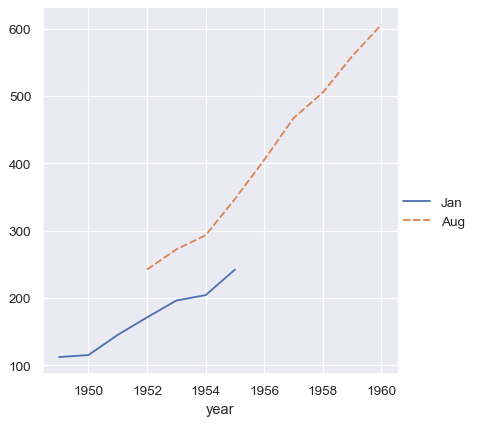 Whereas an ordinal index will be used for numpy arrays or simple Python sequences:
two_arrays

 

=

 

[

s

.

to_numpy

()

 

for

 

s

 

in

 

two_series

]




sns

.

relplot

(

data

=

two_arrays

,

 

kind

=

"line"

)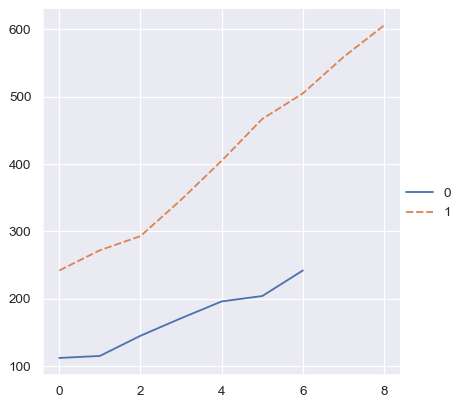 But a dictionary of such vectors will at least use the keys:
two_arrays_dict

 

=

 

{

s

.

name

:

 

s

.

to_numpy

()

 

for

 

s

 

in

 

two_series

}




sns

.

relplot

(

data

=

two_arrays_dict

,

 

kind

=

"line"

)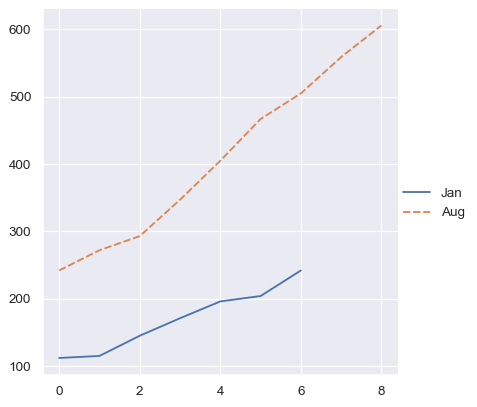 Rectangular numpy arrays are treated just like a dataframe without index information, so they are viewed as a collection of column vectors. Note that this is different from how numpy indexing operations work, where a single indexer will access a row. But it is consistent with how pandas would turn the array into a dataframe or how matplotlib would plot it:
flights_array

 

=

 

flights_wide

.

to_numpy

()




sns

.

relplot

(

data

=

flights_array

,

 

kind

=

"line"

)